I defended my thesis yesterday.  I'm all but done my Master's degree, and I don't know what I am doing next.
Not completely true.  I know that today, I am relaxing, drinking rum and eggnog (done my 3rd at 1pm), and setting up the Christmas tree.  But after today, I have no specific plans.  And it's scary.
While prepping, I read Illegal Alien by Robert J. Sawyer.  It was the first book that I have read by him where no part of the story takes place in Canada.  Sure, one of the minor characters is Canadian, but the story itself never goes there.  And further, the Canadian character is not likeable.  He's full of himself, and willing to put aside his morals for the chance of fame.  It also feels like there's a bit of Deus ex machina going on at the end of the book.  Certainly it's foreshadowed, but new information comes too late in the story for it to feel natural.
I am also having trouble getting a good mental image of the aliens.  I understand their structure, but can't close my eyes and see Hask (the main character), and I'm not sure if that's because he's non-human, or if the description still hasn't settled in my head.
I've decided to go through the books on my reading list and start ordering them from the library.  I can't expect myself to buy every copy of these books, or for them to miraculously land in my lap, so to the library I go.  Though I may switch up the order to read books I may get for Christmas read earlier.
I also finished Dave's Christmas Stocking while I was getting ready to defend.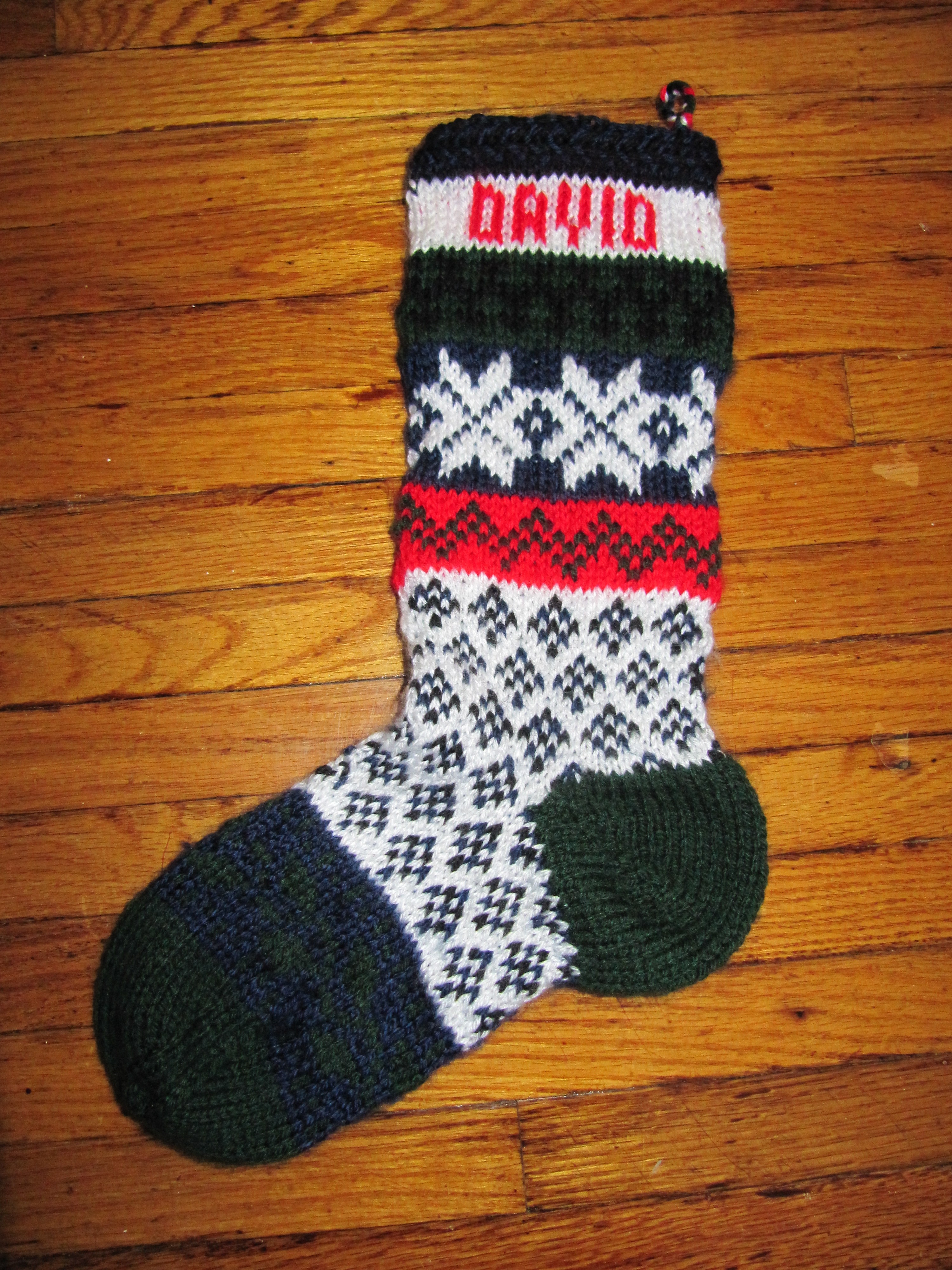 I'm really happy with the way this turned out, although the contrast between the blue and green, and the black and green both leave something to be desired.
I'm thinking that I should probably line this with fabric of some sort, because all the internal stranding will catch on, well, almost anything.
The details of the project are here (Ravelry link).  I've also already started mine, and I can't wait to finish it.
As you can tell, although I clearly worked hard to get my Master's done, I've also been stressing about it, hence all the other stuff I've been up to.
Oh, and I haven't even mentioned the three applications that I had to have submitted by the 2nd (Thursday).
But still, where do I go from here?  So much of the past 4 years of my life have been tied up in this project and this goal.  And it's gone, and I'm at a loss.  I graduated myself into unemployment.  I'm happy, but worried.  I want to do something that interests me, but I also need to have some money to, you know, help pay the bills and such.
But today is not for navel gazing, moping, or wrapping myself in worry.  Today is for eggnog and rum, and christmas trees, and figuring out where to hang stockings!
Well, mostly.