So, yes, I've been quite remiss in writing here, but life happens.  I've been half decent at getting in my runs, with 77km since the last time I wrote about running.  That includes 2 races:
Harry's Spring Run Off (8km) – 51 min, 6:20 pace
Sporting Life 10K – 58 min, 5:44 pace
Today, I started my running plan for the summer.  I'm planning on cycling through 10, 12, 14, and 16km long runs, with one hill run, and one flat run each week – I'm going to TRY to make one of them in the morning, but we'll see whether or not that actually works.  I was a little over dressed for the temperature today, and pushed too hard at the start of my run.  This lead to me breaking down about 200m from my house (yes, I'm serious, I quit with 200m to go…)  What makes it even more frustrating is that if I'd just kept going for 5s more, I'd have been on a walk break, taken it, and then been able to finish that last little bit.  So frustrating.
Distance – 8.04km
Time: 53:55
Pace: 6:43/km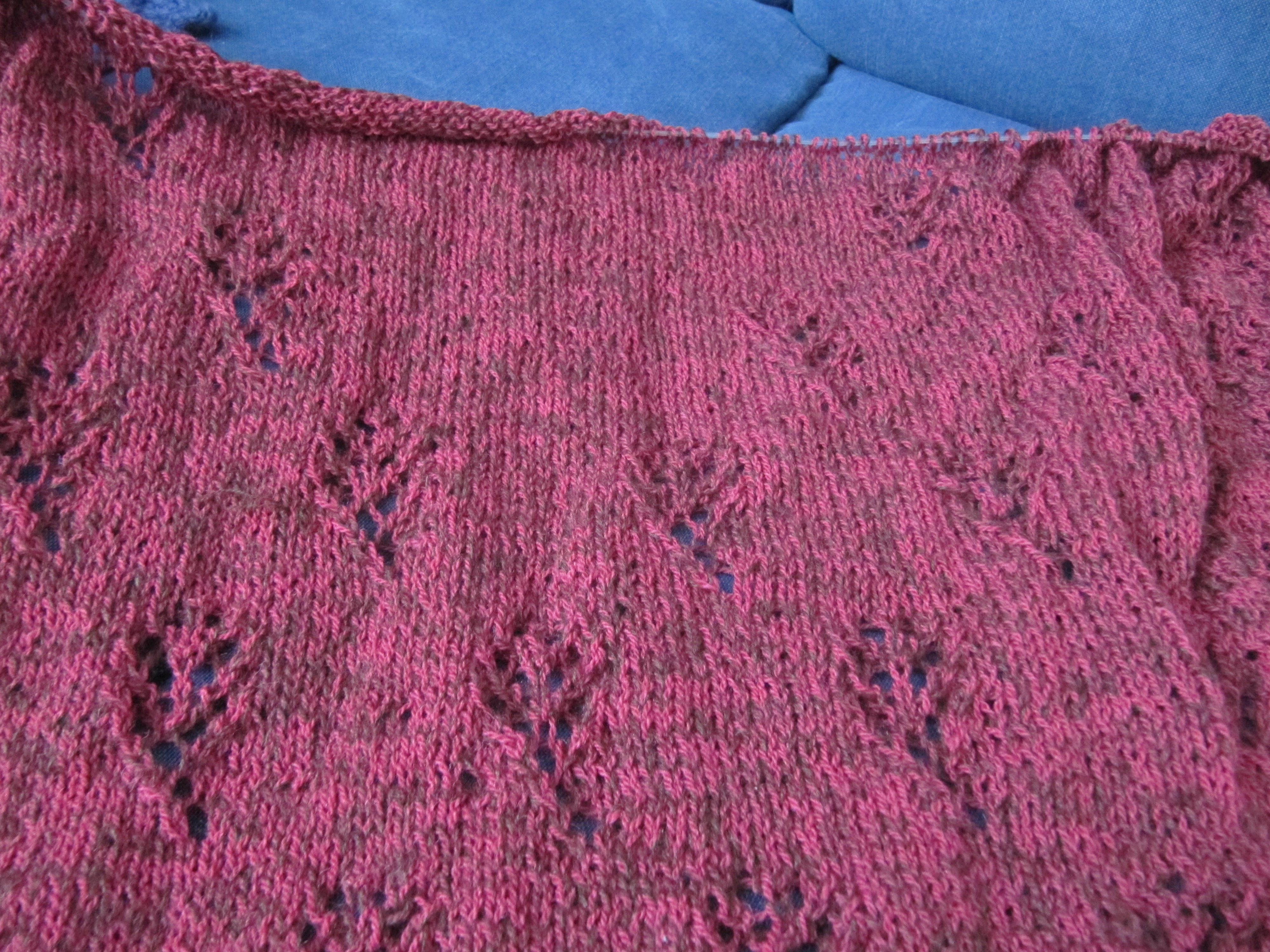 I've also been spending much time working on my friend's wedding shawl. It's bigger along the top edge than the needles, so more than 90cm.  I'm still not sure how big I'm going to make it, but I sorta want it to be wing-span, which for me is at least 150cm, so I'm getting there.
So I did the little flowers until there were 8 across, and then I started putting in a solid piece.  It's still possible that I might put another image there, but I really haven't decided yet (but probably should REALLY soon).
Her wedding invites (that she drew herself) are calla lilies and butterflies, so I think that I'll try to find something that will work and still fit in that theme.
I've also been reading, and it's so true, although I love certain parts of it, Wheel of Time gets really slow during the middle books.  I miss seeing all my characters interact.  I've been keeping my reading list up to date on my Reading List page.